Ten Bournemouth facts football fans might not know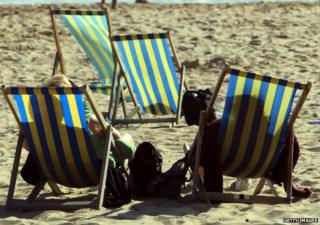 AFC Bournemouth have effectively sealed promotion to football's Premier League just seven years after being close to liquidation.
It will be the first time the club have played in the top division of English football. For fans visiting the area next season, what else is there to know about the resort?
Seven miles of beaches
Bournemouth is famous for its beaches. They attract about 100,000 visitors on a busy weekend and between 50,000 and 60,000 people a day midweek during the summer months.
The beaches have four Blue Flags and two Seaside Awards.
For the second year running, the town was voted by the public as the UK's Best Coastal Resort at the British Travel Awards 2014.
Percy Bysshe Shelley's heart
The writer Mary Shelley, best known for her novel Frankenstein, is buried at St Peter's Church in Bournemouth along with her parents, who were feminist author Mary Wollstonecraft and philosopher and journalist William Godwin.
Her husband, English poet Percy Bysshe Shelley, drowned in a boating accident in the Gulf of Spezia in 1822 and his cremated remains were buried in Rome.
However, it is said that his heart refused to burn, and was snatched out of the pyre by a friend, who gave it to his widow.
The remains of the heart were later interred in the family plot at St Peter's Church.
Two beach hut 'firsts'
Bournemouth is said to be the first place in the UK to have purpose-built beach huts that were built in 1909.
In 2011, a beach hut in Bournemouth became the first in England and Wales to be allowed to hold weddings and civil partnerships.
Unforgettable football match
AFC Bournemouth played Real Madrid in a rather unusual pre-season friendly in July 2013.
The match sold out after fans queued overnight for tickets, with non-season ticket holders paying £60.
Perhaps unsurprisingly, a Real Madrid side including Cristiano Ronaldo, Luka Modric and Mesut Ozil cruised to a 6-0 win.
Massive shower
Bournemouth cleaned up with the record for the most people to shower simultaneously at a single venue in 2011.
Wearing just bikinis and swimming trunks on a cold September day, the 152 men and women gathered under a huge shower that had been specially built on the beach.
They beat the previous record of 145 people that was set in Chicago, Illinois in 2009.
Famous residents
Notable former residents include the actor Christian Bale, Blur's bass player Alex James and choirmaster Gareth Malone - all attended Bournemouth School, a grammar school in the town.
Other notable former residents include Lord of the Rings author JRR Tolkien, who lived in a bungalow just outside the town for several years and regularly stayed at the Miramar hotel. Broadcaster Tony Blackburn's family moved to Bournemouth when he was three.
World's shortest funicular railway
Fisherman's Walk Cliff Lift in the Southbourne area made it into the 2015 Guinness World Records as the world's shortest funicular railway.
The lift conveys passengers through a vertical height of 91ft (28m), and the total track length is 128ft (39m).
It is estimated, in excess of four million people have travelled on the lift since it opened in 1935.
Most hated building
The IMAX cinema complex was voted one of the UK's most hated buildings in 2005 on the Channel 4 programme Demolition.
The huge building opened on the town's seafront in 2002 and closed three years later.
The building was eventually demolished in 2013.
World's first pier to shore zip line
Bournemouth has had several piers, with the first being a short wooden jetty that was completed in 1856.
A later pier was demolished as a precaution against invasion during World War Two, but was repaired and reopened in 1946.
The current pier was rebuilt in 1979 and 1980 and has what is claimed to be the world's first pier to shore zip line, that opened in September 2014.
Ice cream and deckchairs
A whopping 750,000 ice creams are bought along the seven miles of Bournemouth's seafront every year, and as many as 30,000 can be sold on a busy weekend.
Visitors hire out about 3,000 deckchairs on a busy weekend.