Prince Charles hands keys to owners of 250th Poundbury home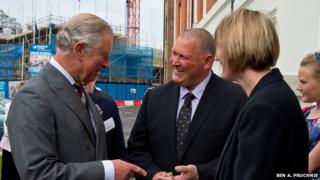 The Prince of Wales has personally given keys to a family who bought the 250th home in an experimental Dorset town he set up in the 1990s.
The prince met Nathan and Sarah Dunford and their four children outside 54 Peverell Avenue East, in Poundbury.
The prince also officially opened the Poundbury Cancer Institute in the town and met staff.
The institute's aim is to help identify the most effective treatment for individual cancer patients.
Poundbury is an urban extension to the Dorset county town of Dorchester and is based on the prince's planning ideals.
The development aims to combine social and private housing with work and leisure facilities to create a "walkable community".