Straw bale arts centre opens in Sherborne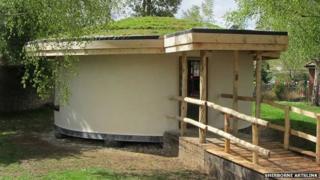 A new arts centre made out of straw bales and wood has opened in a town Dorset.
The Art Cabin has been built for therapeutic arts activities at Sherborne's youth centre.
The 6m (20ft) diameter cabin was built with straw around a wooden frame on top of old tyres. It has stained glass, mosaics and wood carvings.
Jennie Loader of Sherborne Artslink said: "It's a beautiful space which will be filled with creative arts".