Cabin cruiser destroyed by fire in Wareham Channel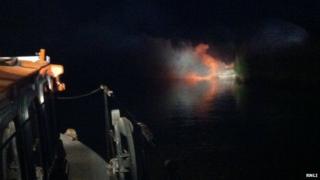 Fire has destroyed a boat moored in a river off Poole Harbour.
Emergency crews, including two lifeboats, were called to the cabin cruiser in the River Frome at Swineham, off the Wareham Channel, at about 21:20 BST on Sunday.
When the lifeboats arrived, the 35-foot (10.5-metre) vessel was well alight and firefighters were tackling the blaze from the river bank.
The fire was under control by 23:00 BST and crews stayed until 01:00 BST.
During the incident, Poole Harbour staff warned river traffic to keep away from the area because it was not known if there were cylinders on board the boat.
The cause is under investigation.