Bartle Frere, ex-BA pilot, jailed for child sex abuse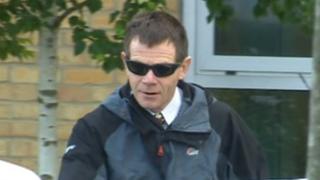 A paedophile who carried out child sex crimes during stopovers while working as a British Airways pilot has been jailed for 12 years and six months.
Bartle Frere, of Shipton Gorge, Dorset, was convicted of 16 sex offences, including sexual assault, following a retrial at Bournemouth Crown Court.
Frere was found guilty of arranging the sexual abuse of a child in India at an earlier trial in October 2014.
He was arrested as he got off a flight at Heathrow Airport in November 2013.
A total of 25 charges against the 51-year-old, which also included making indecent images, dated back to 2001.
DVDs and Viagra
The Crown sought a retrial on 16 counts the jury at his first trial failed to reach verdicts on.
During the retrial, the court heard police had searched Frere's home, near Bridport, the day before his arrest and seized DVDs of underage boys wrestling naked, as well as boy's underwear and Viagra.
The jury also heard details of Frere's stopovers in India while he was working for BA.
He befriended youngsters in one fishing village near Chennai, handing out gifts including mobile phones.
The court was also told Frere searched the internet on his phone to find out "where to pick up underage boys in Bangkok".
'Terrible crimes'
Frere, who no longer works for BA, told the court he liked to help boys purely to encourage them and see them develop.
After sentencing, Det Sgt Dave Wise, of Dorset Police's child abuse investigations team, described Frere's actions as "terrible crimes".
"Frere targeted vulnerable children to exploit them for his own purpose and we hope that the lengthy sentence brings some closure to them and goes some way to repairing the harm he has caused to his victims and their families."
He also thanked British Airways for its co-operation.
A spokesman for BA said the firm "took the allegations very seriously and co-operated with the police throughout their investigation".
Wessex Crown Prosecution Service thanked those who gave evidence.
"Their courage and determination has contributed greatly to the successful prosecution of someone who poses a very significant risk to young boys."