Dorset duck 'Usain' has crossbow bolt removed from neck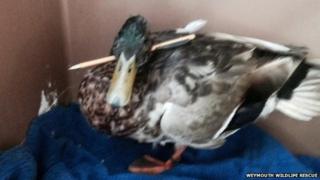 A duck seen wandering around a Dorset nature reserve with a crossbow bolt through its neck has been rescued.
The male mallard, nicknamed Usain, had been carrying the bolt for several days before having it removed on Monday.
Weymouth Wildlife Rescue was passed the injured bird from the RSPB nature reserve at Radipole Lake.
Piddle Valley Vets removed the bolt for free and is offering £211 - the cost of the treatment - up as a reward to catch the person who shot Usain.
Fran Ponting, from Weymouth Wildlife Rescue, said: "The person who has done this is absolutely heartless and cruel.
"We're hoping they see this and feel really bad about what they've done."
She added: "[Usain] is obviously feeling very sore - he still has a hole either side of his neck but it will heal very quickly."
She said the duck would undergo a treatment of antibiotics before being released back into the wild.
Anyone with information is being encouraged to contact police.