Milk prices row: Dorset farmers stage first protest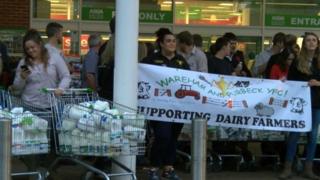 About 100 farmers have cleared the shelves of an Asda store in Dorset in the first "Milk Trolley Challenge" protest in the county.
Similar demonstrations have been held across the UK over the past few weeks calling for a fairer price for the dairy industry.
Farmers, who brought two calves, bought up milk from Asda in Poole on Thursday evening before giving it away for free.
The protest came just before Asda said it would pay more for its milk.
The move came after demonstrations at branches of Asda, Morrisons, Lidl and Aldi.
The Asda store in Poole declined to comment.
Dorset protestor Emily Gascoigne, chairman of Wareham and Purbeck Young Farmers, said: "It's becoming increasingly desperate... even for more established farms.
"Some farms are standing still and there are many people going out of the industry.
"I've had members of public tell me they would be more than happy to pay more for milk."
The industry says a reduction in global demand for milk has led to an over-supply in the UK, creating difficult conditions for many dairy farmers.
On Thursday, Asda said it would increase the price it paid per litre to its milk supplier Arla from Monday, with the intention that it be passed directly on to farmers.