Seychelles 'sex' banknote auctioned in Dorchester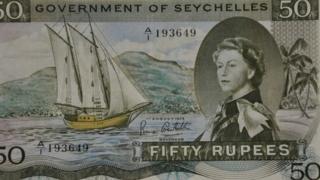 A banknote featuring the Queen with the word "sex" secretly written behind her in palm trees has been sold at auction.
The 50 Rupee Seychelles, which dates back to between 1968 and 1973, was sold alongside other historic coins and notes.
It fetched £336, despite an estimated winning bid of £200.
Auctioneer Timothy Medhurst, from Duke's of Dorchester, said some believe the word was added by pro-independence printers.
Another note in the series contains the word "scum", he said, suggesting the additions were added deliberately as the island tried to remove itself from British rule.
Fifty Rupees is worth about £2.50 ($3.80).