Rare reptiles lured away from Bournemouth A338 roadworks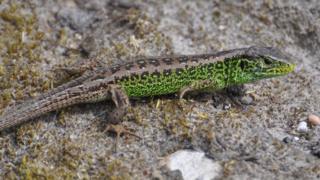 Ecologists have been working to protect rare reptiles from roadworks on a busy dual carriageway by luring them away.
Sand lizards and smooth snakes are known to live alongside the A338 in Bournemouth, which is being rebuilt.
Work on the road was due to begin in 2010 then was shelved, but not before miles of "reptile fence" was installed.
The new system of encouraging the reptiles to move by removing vegetation and creating improved habitat nearby has been approved by Natural England.
In 2009 and 2010, work to move the creatures involved lane closures and traffic jams.
Ecologists moved smooth snakes and sand lizards, which are rare in the UK and highly protected under European law, and a special fence was erected to stop the creatures returning.
The road scheme was then shelved due to lack of funding.
Now work has resumed, the reptile fence has been removed, along with gorse and bracken, and the verges cut back, making them unattractive as reptile habitats.
Meanwhile, 79 acres (23 hectares) of nearby heathland has been enhanced, with trees and scrub removed and sand patches created.
Dorset County Council's environment councillor, Peter Finney, said: "We're incredibly proud of our natural environment in Dorset and we strive to find new ways to work alongside our many protected areas and species, and enhance it - even when we are doing something as destructive as rebuilding a road."
The £22m rebuild, between Ashley Heath Roundabout and Blackwater Junction, is due to be completed by April 2016.
---
Smooth snakes
The smooth snake is Britain's rarest reptile
The species is found naturally in Dorset, Hampshire and a few sites in Surrey
They have also been reintroduced in Surrey, Sussex and Devon
The creatures are dependent on well-managed heathland
They hide under stones, logs and other debris exposed to the sun
Sand lizards
The sand lizard can reach up to 20cm in length
The male's green flanks are particularly bright during the breeding season, between April and May
Due to habitat loss, the species only occurs naturally on heathland in Surrey, Dorset, Hampshire and the Merseyside dunes system
A reintroduction programme has re-established the species in north and west Wales, Kent, West Sussex, Devon and Cornwall
The lizards require both mature sunny habitats and open undisturbed sand to lay their eggs
Source: Amphibian and Reptile Conservation Trust