'World's oldest paperboy' Ted Ingram dies aged 95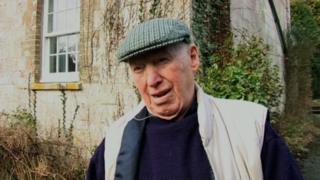 A man who was once credited as being the world's oldest paperboy has died at the age of 95.
Ted Ingram, who retired in 2013, claimed to have delivered more than 500,000 papers since 1942.
He appeared in the 2013 Guinness Book of Records, had spoken of delivering newspapers reporting on landmark events, such as the end of World War Two and the Queen's Coronation.
Daughter Angela Matthews said his family was "really proud" of him.
Mr Ingram, from Winterbourne Monkton, near Dorchester, died earlier this week.
He took up paper delivery aged 22, to boost his income from driving tractors.
At his peak, Mr Ingram delivered 50 papers a day, but by the time he retired the number had dwindled to eight, and the round was no longer financially viable.
Speaking in 2013, he said: "My knees are quite bad - it's time to give it up."
Since then, another contender for the title has come forward - 100-year-old Walter Sharp in Falkirk, Scotland.