FlyBe ends Bournemouth Airport flights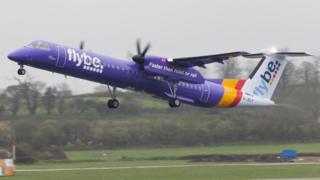 Budget airline Flybe has announced it is to pull out of Bournemouth Airport, six months after restarting flights from the resort.
The airline confirmed it was running its south coast business from Southampton airport, but also withdrawing its fleet of jet aircraft.
The airline currently flies to Jersey, Glasgow, Dublin, Paris and Amsterdam from Bournemouth.
It resumed flights from Bournemouth Airport in March.
Flybe chief commercial officer Paul Simmons claimed: "This will enable more frequency and more choice to our customers through consolidating our South Coast operation into one airport. "
---
Analysis - Paul Clifton, BBC South Transport Correspondent
This is a huge blow for Bournemouth airport. It invested £45 million in a grand new terminal just as the recession started to bite.
Its dream of handling three million passengers a year evaporated. Flybe, with a range of domestic and European routes, helped it rebuild passenger numbers above 750,000. Now it will fall back once again to a fraction of the business that was anticipated.
As Flybe continues to restructure its operations, it will withdraw all its jet aircraft from Southampton. That's a disappointment there, but the airport says it hopes other changes and the arrival of another airline will keep passenger numbers broadly stable next year.
---
Bournemouth Airport, which opened a new £45m terminal in 2010, has been primarily used by Ryanair and Thomson Airways.
An airport spokeswoman said it was "extremely disappointed" at Flybe's decision.
"We remain committed to providing a good range of choice to our loyal customers here in Bournemouth and there remains a wide range of destinations served across the networks of our other based airlines."
Travel broadcaster Simon Calder described Flybe's actions as "fine-tuning" for the company but said he did not think the airport would close as a consequence.
"It has some form of future… it's just a question of getting the right operator in there, and clearly Flybe doesn't think it's them."