Rare Ming dynasty jade horse sells for £63,440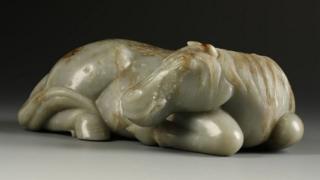 A rare Ming dynasty jade horse that emerged for sale after a chance encounter at a petrol station has sold at auction for £63,440.
The 17th Century figure was part of a collection being auctioned in Dorset.
The art came to light after a retired academic of Chinese culture helped a woman who locked her keys in her car.
It emerged the woman's husband was a collector of east Asian art. He decided to sell his collection following the chance encounter.
'Astonishing workmanship'
The 9in (23cm) jade carving is possibly an Imperial commission from the late Ming or early Qing dynasty.
A group of similar horses was exhibited in 1975 at the Victoria and Albert Museum.
Andrew Marlborough, of Duke's Auctioneers in Dorchester, said the ornament was "incredibly rare" and from the same group as those exhibited at the museum in 1975.
There had been a great deal of interest in the horse "not only because of the astonishing workmanship but also because of the subject", he said.
Other items in the sale included a bamboo brush pot, which fetched £58,000, and a white jade quail ornament that sold for £79,300.