Further Swanage to Wareham rail line passenger trial delays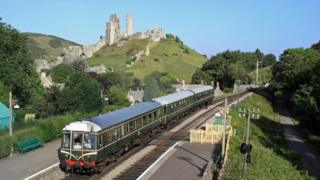 Passenger trains set to reconnect a Dorset seaside resort with the mainline for the first time in four decades have been delayed for a second time.
Trials between Swanage and Wareham were originally expected to begin last year, but were delayed until this summer.
Swanage Railway heritage line said they would now begin early next year due to upgrade works needed on its diesel trains.
The original rail line was closed by British Rail and ripped up in 1972.
Mark Woolley, from Swanage Railway, said its two 1960s diesel trains needed to meet modern main line standards.
He said specialist axles and wheel bearings were being manufactured in the US and South Africa, as well as England, and were due to arrive in the autumn.
The trial services will see diesel trains run by Swanage Railway connecting with South West Trains services at Wareham on the Weymouth to London Waterloo line.
The line reconnection works are set to be completed by the end of March.
A new £500,000 level crossing has been installed as part of the work, which has also included the replacement of 1,200 wooden sleepers with concrete ones.
Issues including ownership of the line and nearby hibernating animals led to delays in the work last year, resulting in the original trial date being put back.
The original 10-mile (16km) line from Swanage to Wareham was ripped up in seven weeks.
Volunteers rebuilt a 5.5-mile (8.8km) stretch from Swanage to Norden over 30 years and have been running it as a tourist attraction since the late 1990s.