End of the line for Weymouth Quay Tramway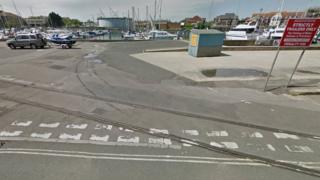 A disused train line, set in to the road in a Dorset town centre, is set to be removed.
Heritage campaigners want the 1.25 mile (2km) line linking Weymouth station and the quayside to be reopened to boost tourism.
But council officers insist the tracks are unsafe for cyclists and are recommending support for Network Rail's closure plans.
The council said there was "no potential plan of use" for the line.
The Weymouth Quay Tramway first opened in 1865 to link Weymouth train station with Channel Island ferries and was last used in 1999.
The most recent attempt to reopen the line was made by enthusiasts who were hoping it could bring spectators to the sailing events during the 2012 Olympic Games.
'Wishful thinking'
More than 2,000 people have signed an online petition to revamp the disused Weymouth Tramway into a heritage railway and attraction.
Campaigner Ian Brook urged the council to defer a decision to declare it permanently out of use.
"I'd like to see steam trains on there again. We are a tourist town and heritage and railways are big earners.
"The track is there, to mainline standards, and with a few repairs, it would be running tomorrow."
But Weymouth and Portland Borough councillor Ray Novak said the tracks added to road maintenance costs and hindered redevelopment of the area.
"There is historical interest and rail enthusiasts and residents will be sad to see it go, but we have to look at the future.
"So far there has been a lot of wishful thinking about what it could be, but there has been no clear costed plan about how it would actually operate," he said.
The issue is to be discussed by councillors at a meeting on Tuesday.