Storm Imogen: Warning after children spotted on beach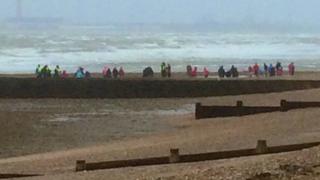 Coastguards have issued a warning after schoolchildren were pictured standing on a beach as Storm Imogen hit the south coast on Monday.
The children, from Stubbington Study Centre, were spotted at Hill Head, near Fareham, Hampshire, as heavy winds and choppy waves swept in.
Hill Head Coastguard posted a photograph on Twitter and described the waves as "unpredictable".
The county council said the activity was "carefully planned".
Hundreds of homes were left without power as the storm lashed southern England.
A driver crashed into a fallen tree in Southampton, and winds hit 96mph at The Needles off the Isle of Wight after forecasters issued an amber "be prepared" warning.
Hill Head Coastguard wrote: "Amazing - one of the off duty coastguards just saw this group of primary school children on the beach at Salterns.
"Primary school children were on an organised trip - the waves are unpredictable & contain debris #StormImogen where was your child today?"
A council spokesman said a risk assessment was carried out in line with national guidance from the Department for Education and the Health and Safety Executive before the children were taken on to the beach.
"The children were not permitted onto the beach until the tide was going out, and the section of beach where the children were photographed had been clear of sea water for at least 50 minutes," he said.
He added they were "kept well away from the sea edge and a minimum of 20 metres away from the high water point and swash zone", and ongoing risk management continued throughout the activity.