Queen jigsaw maker Dave Evans aims to set new world record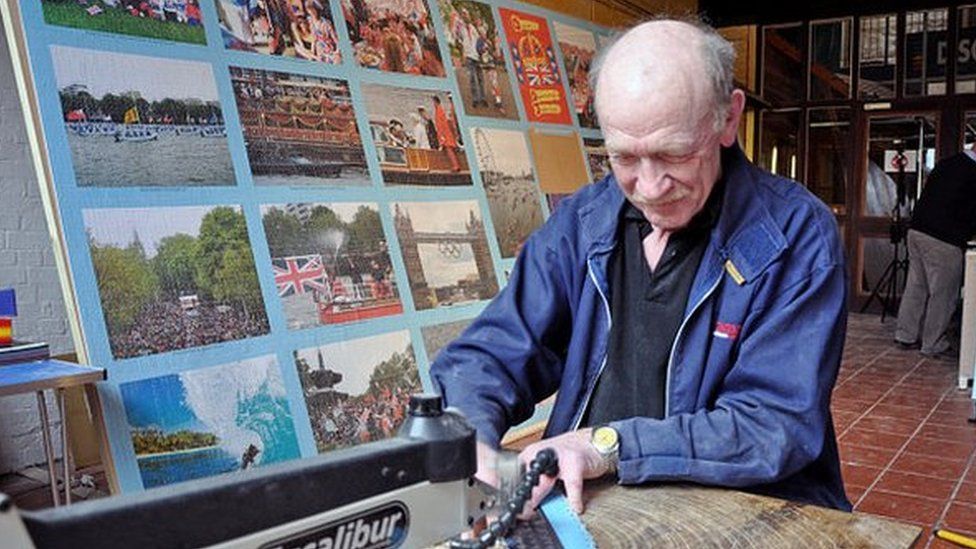 A jigsaw maker who gained fame when his 40,000-piece Queen's Jubilee puzzle collapsed is hoping to beat his own world record with a new attempt.
Dave Evans set a Guinness World Record for the largest hand-cut, wooden jigsaw in 2013 - despite it collapsing as the final piece was put in.
He said he hoped his skill, not a collapse, would be remembered.
"It's a shame, because last time the puzzle became better known for falling down than my ability to cut it," said Mr Evans, from Weymouth, Dorset.
Mr Evans made headlines across the world when the 20ft by 8ft (6m by 2.5m) 40,763-piece jigsaw, featuring 33 images of the Queen's Diamond Jubilee, collapsed.
"It was on Russell Howard, Have I Got News For You, Rude Tube - I was even called by television stations in South Korea and radio in Canada," Mr Evans said.
It took him and four helpers more than 16 days to rebuild it before it was transported to the Sandringham estate where it was exhibited.
Mr Evans is now looking for people to sponsor his new attempt and possible venues to cut the puzzle, which he hopes will measure about 30ft by 20ft (9m by 6m), in late spring or early summer.
"It'll have to be a pretty big space - at least 30ft long," he said.
The Queen celebrates two birthdays each year - her actual birthday on 21 April and her official birthday on a Saturday in June, this year on 11 June.
Related Internet Links
The BBC is not responsible for the content of external sites.