Dorset knob throwing contest attended by thousands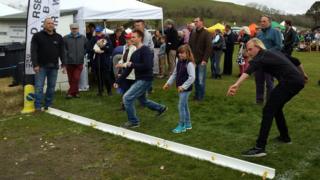 Thousands of people have turned out for the annual Dorset knob throwing contest.
The event in Cattistock, which also incorporates a food festival, sees participants hurling the locally-made buns in pursuit of a new record.
The existing record holder, Dave Phillips, lobbed his winning knob an astounding 29.4m (96ft) in 2012.
For the first time this year, winners were presented with a bronze knob, cast by local foundry Coles Casting.
Other games include guess the weight of the big knob, knob archery, knob and spoon racing, pin the knob on the Cerne giant, and the knob eating cup.
---
A brief knob explainer
Dorset knobs are biscuit-textured buns, which have been made by Moores of Morecombelake for more than 150 years
Originally, they were made from leftover bread dough with added butter and sugar, hand-rolled into buns and left to dry in the dying heat of the oven
It is thought their name comes from the hand-sewn Dorset knob buttons that were also made locally
They can be eaten with Blue Vinny cheese, dipped in tea or cider, or taken with honey and cream - known locally as thunder and lightning
---