Closed A30 in Sherborne 'could be pop-up pub garden'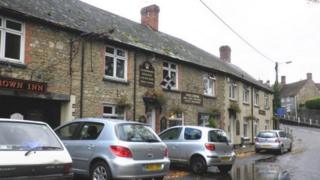 A publican affected by roadworks on a major route through Dorset has suggested using the closed carriageway for a "pop-up pub garden".
A stretch of the A30 in Sherborne is to close amid fears it could become unstable and collapse.
Ian Blackmore, owner of the Crown Inn, said putting tables and chairs on the road would be a "popular feature".
The county council said it could not support the idea because workmen would need access to the road.
Mr Blackmore said his and other businesses had been "decimated" since temporary traffic lights were put in place at the start of May.
The drainage works on the A30 Newell, at the junction with the B3148 Marston Road - a major route through the county between Shaftesbury and Yeovil in Somerset - were originally expected to be completed by 17 June.
Workmen have since found the roof of a culvert was at risk of collapse, meaning the road will now close from 31 May until 24 June between Marston Road and Back Lane, while repairs are carried out.
Mr Blackmore has called on the council to back his pop-up venue idea, which he added was supported by local breweries and plant suppliers.
"When it's closed and there's no traffic - let's use it to our advantage," he said.
"At least that way we're not giving up on the business and it keeps everything going."
A council spokesman dismissed the idea, saying the workmen would need to use the carriageway to carry out repairs and move materials.
He added all businesses in the area would be accessible during the work.