Ringstead Bay beach woodlouse find 'first for Dorset'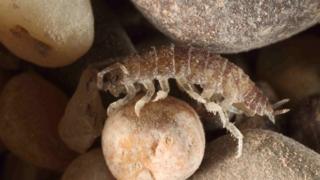 An "extremely elusive" coastal woodlouse has been recorded in Dorset for the first time, according to conservationists.
Four Stenophiloscia glarearum, which grow up to 6mm (0.2 inches), were spotted on Ringstead Bay beach by naturalist Steve Trewhella.
They have previously only been recorded at three sites in the UK - in Norfolk, Devon and Essex.
Charity Buglife, which has verified the find, described it as "very exciting".
Steve Gregory, consultant ecologist at the British Myriapod and Isopod Group (BMIG) Woodlice Recording Scheme, also said he had "no doubt" about the identification.
Mr Gregory said: "It is an extremely elusive species, very difficult to find, and probably not as rare as the records would suggest.
"However, in 30 years of recording woodlice I have only found it once."
Andrew Whitehouse, from Buglife, said: "It's only been recorded in Norfolk, Essex and Devon before, so it's very exciting to find it in a new county.
"Hopefully, it'll encourage more people to look for them in our strandlines - an unloved feature of our coast, which most people view in a negative way as a big, smelly pile of seaweed."
Mr Trewhella, who has also contacted the Dorset Environmental Records Centre for verification, said: "It highlights how little we know about this unique habitat - a very rare species right under our noses."