Liam Day climber search: Partner losing hope of finding him alive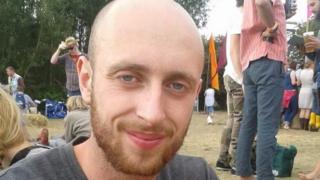 A climber who failed to return from Dorset's Jurassic Coast is unlikely to be found alive, his partner has said.
An extensive air, sea and land search for Liam Day, 26, by police and coastguard crews began shortly after midday on Wednesday.
Posting on Facebook, his partner, Emily Brown said: "Thanks for sharing information about Liam. However, it seems likely that he will not return."
The coastguard said the search was currently suspended.
Mr Day, from Southampton, is thought to have been climbing alone near Durlston Country Park on Tuesday.
Police said enquiries were ongoing and have appealed to anyone who saw a man climbing the cliffs in the area to contact them.
Climbing equipment was found west of Anvil Point on Wednesday.