Weymouth boy dies despite £66,000 fundraised for brain tumour surgery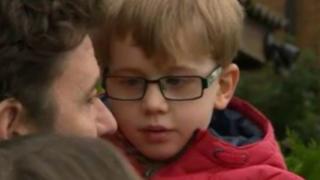 A boy who received treatment for an inoperable brain tumour after a £66,000 fundraising campaign has died.
Riley Blaker, from Weymouth, had a 10-hour operation in February which allowed chemotherapy drugs to be injected directly into his tumour.
It was hoped the surgery, which was not available on the NHS, would prolong the five-year-old's life by a year or two.
He died on Thursday. His mother, Adele, said: "The outpouring of support from so many gave us faith and strength."
The surgery - convection-enhanced delivery - involved inserting tiny tubes to deliver chemotherapy drugs to the tumour.
The cost of the experimental treatment was donated by well-wishers.
Mrs Blaker added: "We honestly do remain so grateful for the fact we could give Riley every chance and the hope it gave us.
"The NHS care, particularly that provided by Dorset County Hospital, was faultless."