First Dorset bus drivers announce a third week of strikes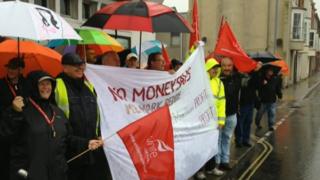 Bus drivers in Dorset will stage a third week of strike action, the Unite union has announced.
More than 110 drivers based in Weymouth and Bridport are already in the middle of a four-day strike over pay.
Now Unite has said four more days of action will start on 4 July, accusing First Dorset of refusing to give ground after seven months of talks.
First Group said the move would "undermine the local economy" during the summer season.
Managing director Marc Reddy said: "The union's reckless action to hold further strikes is designed to cause as much damage to our business as possible, and it is done so without any consideration for our customers, or the future of the company as a whole."
Unite said the company had recently announced a UK-wide profit for its bus division of £52m.
'Stuck record'
Regional officer Bob Lanning said: "We have reached the 'stuck record' stage. I get emails from the management saying we should talk, but there is never any hint of an improved offer to eradicate the pay disparities across the First Bus 'family'."
He said the Weymouth and Bridport drivers earned about £18,300 a year, less than other First Bus drivers in the West Country and less than staff at rival firms in Bournemouth and Poole.
Mr Lanning said: "Unite does not want the Weymouth and Bridport economies to suffer as the holiday season gets into full swing. Local shops should put pressure on the bus company to get around the table for constructive talks."
Mr Reddy said the union had refused to go to the arbitration service ACAS.
Services are running on an emergency timetable during the action but First Group said it had managed to operate 87% of its normal service during the strike days.