Bournemouth landslip: East Overcliff Drive closed for works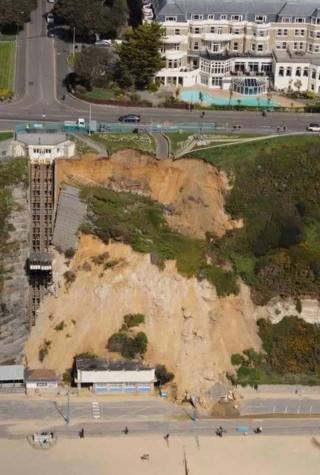 The collapse of a cliff face in Bournemouth has led to the closure of a road for three weeks while work is carried out to stabilise the area.
Rubble fell down the 30m-high (100ft) rock face in East Cliff on 24 April.
East Overcliff Drive has been shut while vegetation and rubble is removed from the cliff top and protective matting is installed over the exposed face of the slope, the council said.
Council environment head Larry Austin said it gave "immediate protection".
The carriages of an Edwardian funicular railway - known as East Cliff Lift - were partially engulfed by the landslip and a block of toilets crushed.
The council previously said the railway would not reopen this summer.
Mr Austin, of Bournemouth Borough Council, said the biodegradable matting, which is now being installed on the slope, "will provide an immediate level of protection to the now exposed cliff face from the possible damaging effects of wind and rain".
East Overcliff Drive, which is closed east of Meyrick Road to through traffic, is expected to reopen on 22 July.