Bournemouth boy arrested over Dorchester 'police officer assault'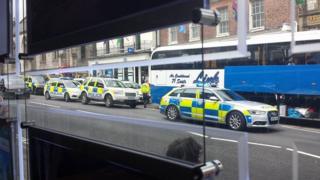 A boy has been arrested on suspicion of assaulting a police officer amid reports of a fire on a coach, police have said.
Eight police vehicles stopped the coach on High West Street in Dorchester after reports someone had set fire to seats at about 13:00 BST.
A 17-year-old boy, from Bournemouth, was arrested on suspicion of assaulting a constable and is assisting officers with enquiries, Dorset Police said.
An investigation is under way.
A spokeswoman said there was "a number of people" onboard at the time, but officers found no damage to the coach.