Victorian grounds at Durlston Country Park awarded £80k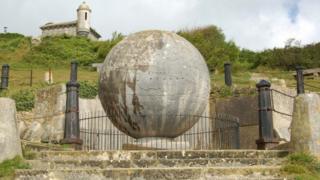 A country park on the Dorset coast has been awarded more than £80,000 of Heritage Lottery Funding (HLF) to help restore its Victorian landscaping.
The cash will be used to develop the "pleasure grounds" at 320-acre (129-hectare) Durlston Country Park, near Swanage.
George Burt designed the ornamental park in the late 19th Century.
Dorset County Council, which owns and manages the site, will bid for the full £900,200 grant "at a later date".
Park ranger and project leader Ali Tuckey said the work would include restoring overgrown trees and shrubbed areas, as well as stone benches, dry stone walling and view points across the coast - some which had "collapsed or been dilapidated" over time or through landslips.
The council added the work would provide visitors with a space to "learn, play, relax and improve their physical and mental well-being".
The grant will also enable more staff and volunteer jobs to be created, the authority said.
Durlston Park Estate
Local businessman George Burt bought land around Durlston Head with the aim of creating a park and housing development
The park was created between 1863 and 1894 - the year Burt died - but the houses were never built
Durlston Castle, at the heart of the estate, was restored with funding from HLF and re-opened in 2012