Piddlehinton 'open prison' travellers' site extended until 2019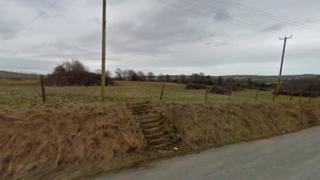 A travellers' site likened to a "prison" by campaigners is to remain open for another three years, despite being "hardly used".
The camp at Piddlehinton was set up in 2014 by Dorset County Council, which said it had been empty this year.
Dorset Police said the field, next to the Enterprise Business Park, was a "valuable asset" which enabled it to control travellers' movements.
Objectors said the extension would "set a precedent to it becoming permanent".
Regulatory committee chairman David Jones said though it was unoccupied, officers would not have the power to move travellers from unauthorised encampments without it.
He said: "It would be more expensive for the residents of Dorset if we didn't have the site."
'Broke principle'
Mr Jones added CCTV cameras, an automatic number plate recognition system and security patrols would be retained.
The Gypsy Council has previously called the site an "open prison" because of high security.
Dorset Police said it had directed seven unauthorised encampments to the site this year, although the council said none had arrived.
One firm on the business park, Smart Agricultural Services, said the travellers' camp was "hardly used".
Objector Chris Ebden said he had seen travellers' vehicles leaving within minutes of arrival in June.
The Piddle Valley parish councillor said the renewal of permission "broke the principle" that the site would only exist for three years.
The council granted permission for travellers to occupy the site from March to August until 2019, at an estimated running cost of more than £35,400 a year.