'Worn-out' Poole bridge to close for £4.2m repairs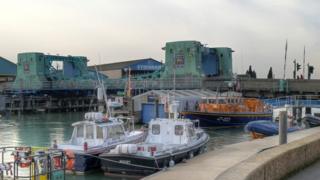 A "worn-out" bridge in Dorset is to temporarily close as part of a £4.2m repairs project.
Poole Bridge, which links Poole town centre to the port and cross-channel ferry terminal, will be closed for nine months from 12 September.
Poole Borough Council, which operates the 89-year-old bridge, said cracks had appeared in the concrete.
The lifting section will remain permanently open for maritime traffic throughout the repairs.
Vehicles and pedestrians will still be able to use the nearby Twin Sails Bridge, which opened in 2012.
Most of the money for the project has come from the government's Local Growth Fund, with a small proportion from the borough council.
Contractor Interserve will also replace piles and abutments which the council said were "worn out".