Dorchester's Charles Street revamp plans 'must be simpler'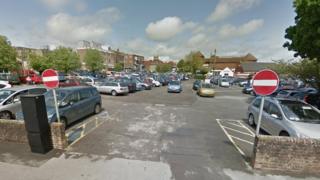 Any future development of a town centre in Dorset will need to be "simpler" than previous proposals, council bosses have said.
West Dorset District Council is considering whether further work should be carried out in Charles Street, Dorchester.
It follows a decision by developer Simons to pull out of a new retail scheme at the site last year.
The authority had agreed funding of up to £4m towards the revamp.
Simons blamed construction costs and requirements by English Heritage, including undertaking a full archaeological survey, for making the project financially unviable.
In April, the council commissioned consultants GL Hearn to carry out a report on development options for the site, which lies within the walls of the old Roman town, taking into account the ongoing development of nearby Brewery Square.
It has now come up with four options for Charles Street which include creating a small supermarket at the site, or using the space for "pop up" activities such as exhibitions and "niche local markets".
Council leader Anthony Alford said: "We realise any scheme has to be market-led, viable and deliverable whatever economic challenges lie ahead.
"Nothing is decided, we now need to carefully consider this report and decide what other actions, like an archaeological review, should be carried out.
"It seems increasingly likely that any future scheme will need to be simpler and more deliverable."
The executive committee will consider the findings of the report at a meeting on Tuesday.
In 2012, there were calls for the then council leader Robert Gould to resign over fears previous proposals were not financially viable.
New council buildings, a library and an adult learning centre have already been built in Charles Street in the first phase of its regeneration.