Corfe Castle Enid Blyton shop rapped over golliwog ad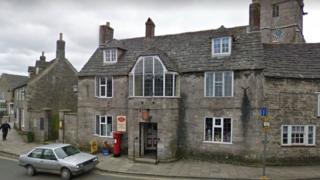 A gift shop's newspaper advert that featured a golliwog character has been banned by the advertising watchdog.
Viv Endecott, owner of the Ginger Pop Shop in Corfe Castle, Dorset, which is dedicated to the works of Enid Blyton, published the advert to promote a tea towel with the logo "English freedom".
The Advertising Standards Authority (ASA) upheld two complaints, ruling it caused "serious or widespread offence".
Ms Endecott said she was "proud" of the tea towel.
On its website, the shop describes itself as "all about Enid Blyton and her era". Some of the children's author's books featured golliwogs, and her work has been criticised for being racist.
The ASA ruling followed two complaints about the advert published in the Purbeck Gazette in June.
The ASA said: "We considered that many people were likely to view the character as representing negative racial stereotypes."
It added that it also considered that the inclusion of the words "English Freedom" were likely to contribute to that offence, "because in combination with the image it could be read as a negative reference to immigration or race".
The authority said the advert should not appear again.
'Brexit'
In a statement, Ms Endecott said the tea towel was meant to "stimulate debate" and the shop had been "buzzing" with interest in it.
"I believe in free speech and a multiculturalism that celebrates the best of all humanity.
"The 'good' golliwog was on the tea towel to represent how it has become impossible to discuss anything to do with race without being accused of racism.
"This is important, because when we couldn't talk about uncontrolled immigration, it paved the way for Brexit."
Ms Endecott said she would not repeat the advert.
---
The Gollywog
The Gollywog (or Gollywogg) was the creation of American author Florence Kate Upton who wrote a series of children's stories inspired by a minstrel doll at the end of the 19th Century
Her books were extremely successful in England and the golliwog doll became a popular children's toy in the early 20th century
Children's author Enid Blyton later featured them in books such as Three Bold Golliwogs and A Muddle of Golliwogs
The Golly first appeared on jars of Robertson's Jam in 1910. It became one of the best-known marketing characters before being ditched by the company after 91 years in 2001
Following the rise of the civil rights movements in the 1960s, the gollywogg became seen as a throwback to a time of racial stereotyping, caricature and oppression
It proved controversial for its perceived racist connotations - The Greater London Council boycotted Robertson's products over its use of the character in the 1980s
In 2009 the daughter of former Prime Minister Margaret Thatcher was dropped as a BBC One Show reporter after referring to a tennis player as a "golliwog"
An exhibition was criticised and managers of a gift shop on the Queen's Sandringham Estate in Norfolk apologised after they were found to be selling golliwog toys in 2009
---