Boscombe artificial reef firm's director 'cannot be traced'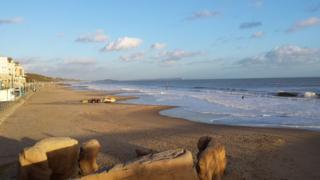 Liquidators for the company that built Europe's first artificial surf reef say they are yet to trace its director.
The £3.2m structure in Boscombe, Bournemouth, has been beset with problems since opening in 2009.
PWC said it had completed its investigations into New Zealand-based ASR but it had remained unsuccessful in contacting Nick Behunin, who was understood to be out of the country.
The liquidation is due to be completed by the end of 2016.
In a six-monthly report, PWC's Tony Pattison urged anyone with contact details for Mr Behunin to get in touch.
A financial statement showed ASR had NZ$14,727 (£8,500) in the bank after the sale of assets and distribution of funds.
Bournemouth Borough Council is owned thousands of pounds by ASR.
The reef, built in the sea east of Boscombe Pier, was closed for three years after it was damaged in 2011 and ASR went into liquidation.
The borough council previously said it would not pursue the £15,000 it was owed.
The authority has since rebranded the site a "multi-purpose" reef, as part of the Coastal Activity Park.
The reef, made of 55 giant sandbags, opened in 2009 after lengthy delays. It closed two years later when it was damaged by a boat's propeller.
ASR Limited went into liquidation during repair work.
---
Surf reef timeline
•July 2008 - Construction begins
•November 2009 - Reef opens
•May 2010 - Wave quality deemed "sub-standard" in report
•November 2010 - Safety report reveals structure "hazards"
•March 2011 - Reef closes after sandbags damaged
•April 2011 - Repairs begin
•September 2012 - ASR Ltd goes into liquidation
•November 2013 - Council receives £306,531 insurance settlement
•April 2014 - Reef reopens
---