Queen Mother statue unveiled at Poundbury estate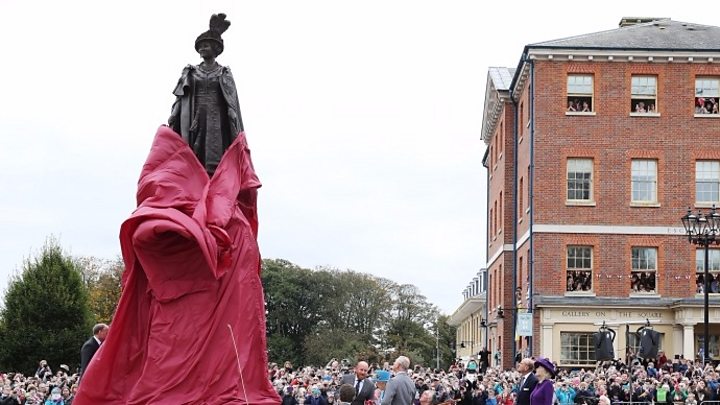 A statue of the Queen Mother has been unveiled by the Queen at the Prince of Wales' model town in Dorset.
The 9ft 6in (3m) bronze statue by sculptor Philip Jackson stands in the square of the Poundbury urban development on the edge of Dorchester.
It is a second casting of a sculpture which stands in The Mall in London, depicting the Queen Mother at the age of 51.
The Queen and Duke of Edinburgh also toured Poundbury during their visit.
As it happened: Live coverage of the royal visit to Poundbury.
The royal party arrived in Dorchester by train before driving to Queen Mother Square in the centre of Poundbury.
The Queen and Duke of Edinburgh, accompanied by the Prince of Wales and Duchess of Cornwall, visited its Jubilee Hall and Royal Pavilion as well as a local supermarket.
Prince Charles designed the village on the outskirts of Dorchester after outlining his plan in his 1989 book, 'A Vision of Britain'.
Speaking at the unveiling ceremony, the prince said the project had been a "mere dream" at the time.
"It is with immense pride and in loving memory of my darling grandmother that I invite your Majesty to unveil the statue of Queen Elizabeth the Queen Mother and thus to declare open her square," he said.
---
Poundbury
Construction on the urban extension on the edge of Dorchester began in 1993
Built on Duchy of Cornwall land, it is already home to about 3,000 people in a mix of private and affordable housing
It provides jobs for 2,100 people and is home to 185 businesses
It is set to be complete by 2025 when it will house about 5,000 people
Queen Mother Square is the newly completed central hub of classically designed commercial and residential buildings most of which are named after The Queen Mother's favourite racehorses
---