Weymouth Ironman triathlon disruption: Marshalling was 'unprofessional'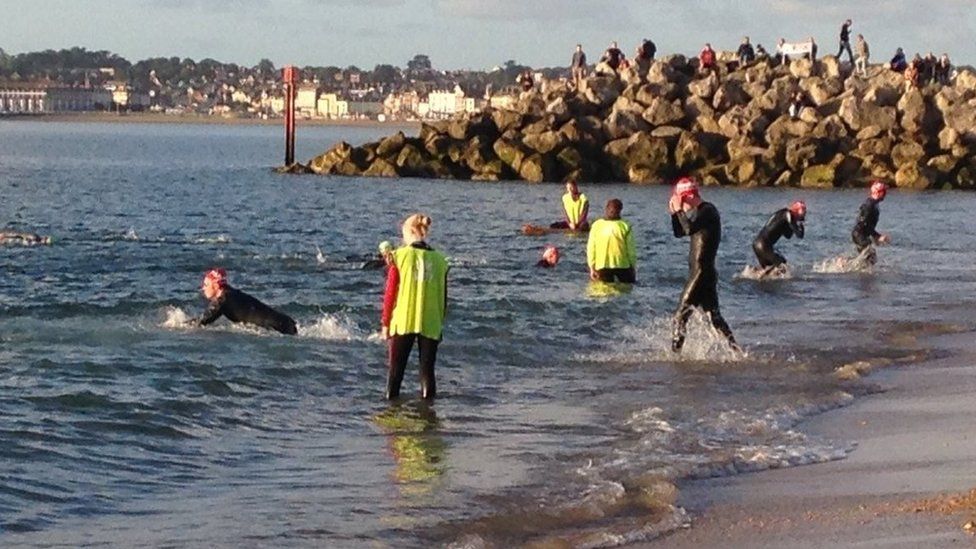 The marshalling of a major triathlon event was "unprofessional" and contributed to traffic disruption, a council report has found.
About 2,700 competitors took part in what the organiser called the UK's "biggest ever" Ironman event, in Weymouth on 11 September.
A Dorset County Council inquiry examined issues on the day including motorists being delayed.
Organiser Ironman UK has already altered the length of the 2017 event.
The competition involved a swim in Weymouth Bay followed by a run through Weymouth and a cycle through rural west Dorset.
Eighty road users complained after long delays between Weymouth and Dorchester. Dorset Police said traffic disruption was made worse by vandals who removed road signs.
"The situation that had arisen with the marshalling of the event had been unprofessional." the report said.
"A significant number of incidents occurred across the route and evidence emerged that marshals were not fully briefed on the traffic management proposals, had no local knowledge and were closing roads unnecessarily."
It also highlighted that police officers - paid for by Ironman UK - had played a greater role than anticipated due to the marshalling problems, and businesses based around Weymouth Harbour also complained about being disrupted with no compensation.
In his submission to the inquiry, Ironman UK managing director Kevin Stewart admitted marshals were "clearly overstretched" but insisted there had been an economic benefit to the region of about £1m.
He said the company had already removed a 140.6 mile (226.3km) option from the 2017 event, changed its traffic management supplier and put a "robust communications plan" in place.
Related Internet Links
The BBC is not responsible for the content of external sites.