Dorchester Charles Street revamp 'should include ruins'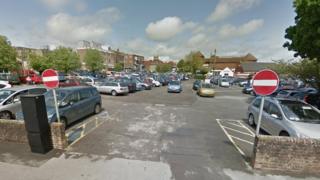 A council has been accused of "missing a trick" by not incorporating nationally important archaeological remains into a town centre development.
West Dorset District Council wants to redevelop Dorchester's Charles Street into a new shopping area.
Town councillor Alistair Chisolm said any development should make a feature of the ancient ruins.
A district council report said it was unlikely any remains could be displayed "cost-effectively in a meaningful way".
Last year council bosses said the retail scheme should be simplified after developer Simons pulled out.
The firm blamed construction costs and requirements by English Heritage, including undertaking a full archaeological survey, for making the project financially unviable.
'Stone robbing'
An archaeological appraisal commissioned by the district council concluded the site contained "nationally important" remains from the late Neolithic period - 3000-2500 BC - and the Roman period - first to fourth century AD.
The report said the quality of remains - currently buried under a car park - meant they would qualify for legal protection as a Scheduled Monument like the Iron Age hill fort at Maiden Castle.
But it said "the intensity of stone robbing" meant few walls survived above foundation level.
Mr Chisolm said: "I'm delighted the council now recognises the value of what lies underneath the site but some of it could be kept and used.
"There is some reference to the archaeological significance, but it's viewed as awkward in terms of development rather than a very exciting thing we should preserve.
"I'm not saying the site shouldn't be developed at all but surely we can hang on to some of its archaeology and make it a special feature of Dorset."
District councillor John Russell, chairman of the Charles Street working group, said the archaeological appraisal highlighted "the potential for on-site display" and the author had met with town council representatives before preparing the draft report.
He said the report concluded "the site could be developed with appropriate mitigation measures".
The council's executive, which meets on Thursday, is being asked to approve spending £520,000 on a development strategy and marketing Charles Street and other development sites.