Dorchester Prison affordable homes decision criticised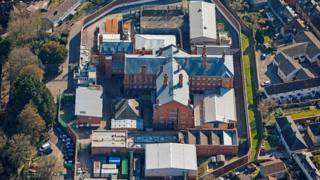 Affordable housing rules are not being applied robustly enough, according to critics of a new development at a former prison.
On Thursday, councillors approved an application to turn Dorchester Prison into 185 homes even though it did not include any affordable properties.
Councillors agreed with developers that the nature of the site meant an affordable element would not be viable.
The local Labour Party said the public had been "ripped off".
Dorchester Labour Party chairman Barry Thompson said the prison was a "public asset" and added: "Councillors should have made it clear to developers that they would have to stick to the council's own target of 35% of all new developments being affordable."
Conservative councillor Fred Horsington, chairman of West Dorset District Council's planning committee, said: "The whole committee is regretful that there is no provision for affordable housing within the development. However, we are satisfied that the financial viability assessment has been meticulously conducted."
The scheme was initially refused in August amid concerns about the negative impact on neighbouring properties and on the Victorian prison architecture.
More than 200 people complained about the lack of affordable homes in the first application but fewer than 50 people responded to the revised proposals.
The district council backed developer City and Country by saying the scheme could not "financially support any affordable housing" because of the "high costs associated with developing this congested brown field site in a conservation area".
A petition against the revised plans, run by the local Labour party, gathered more than 700 signatures.
Dorchester prison was built in 1885 and shut in 2013.