Bournemouth's Harry Arter thanks fans for baby congratulations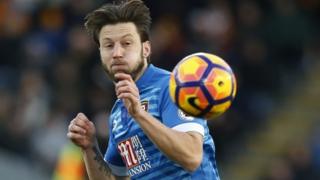 Bournemouth's Harry Arter has thanked well-wishers for their kind messages after the birth of his daughter.
The midfielder, 27, has been inundated with messages of congratulations on social media following the birth of Raine on Friday night.
Chairman of AFC Bournemouth Jeff Mostyn was among the first to congratulate Arter and his partner Rachel, tweeting: "Thrilled with the incredible news."
Their daughter Renee was stillborn in December 2015.
AFC Bournemouth also congratulated Arter on the news, tweeting: "From one family to another, congratulations."
Arter responded to the support on Twitter, saying: "Thank you to everyone for all of your kind messages", adding an emoji rainbow and a heart.
"Rainbow baby" is a phrase used by some parents who have lost a child through a miscarriage or stillbirth as they compare their subsequent child to a beautiful sight after a storm.
TV cameras caught an emotional moment after Bournemouth's match against Manchester City on Monday when City manager Pep Guardiola embraced Arter and offered his best wishes for the imminent birth.
Arter said at the time: "He's someone I have massive respect for. I watched his Barcelona teams and he is, without doubt, the best manager in the world."
Messages have also been sent to the couple from numerous other clubs and fans.
Leeds United's Liam Cooper tweeted: "Congrats mate", while a section of the club's fans tweeted: "Lovely to see the football world come together to congratulate you - congrats Harry."
Elsewhere, Stourbridge Wolves tweeted: "Fantastic news, congratulations from all Stourbridge FC fans."