Swanage Bay swimmer found clinging to buoy rescued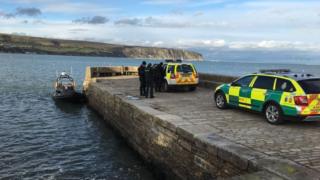 A man has been rescued from Dorset's Jurassic Coast after being found clinging to a buoy in the water.
The man, in his 40s, had become exhausted while swimming in Swanage Bay, and was unable to return to shore when he was discovered by police at 16:30 GMT on Monday.
A marine officer pulled the man into the force boat and took him back to land before he was taken to hospital.
Officers said he was expected to make a full recovery.