Bournemouth surfers and swimmers call for sea scooter ban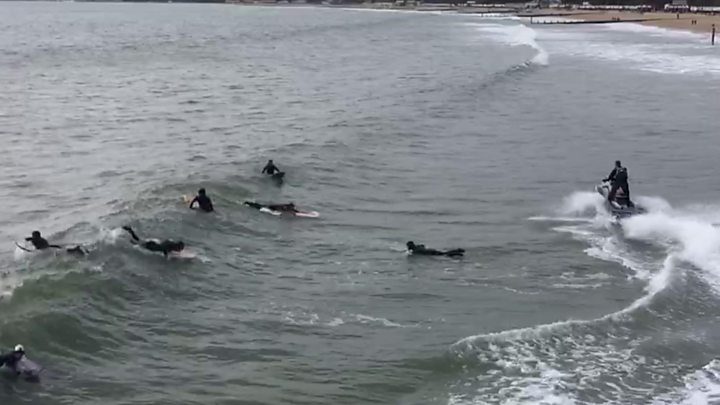 Surfers and swimmers are calling for powered watercraft to be banned from Bournemouth's shoreline after a series of potentially dangerous incidents.
Water users say a minority of personal watercraft riders have been acting "recklessly", risking others' safety.
Riders of the watercraft said the people causing problems would probably also ignore any ban.
Bournemouth Borough Council said it had "little power to enforce restrictions outside of the bathing season".
Local bylaws state watercraft must not go beyond six knots within 200m of the shoreline between April and October.
A petition calling for a blanket, year-round ban has so far gathered about 250 signatures.
Many of the signatories said they were open-water swimmers who felt "unsafe" in the water.
Surfer Russell Shotter, who started the petition, apologised to personal watercraft riders who were "respectful" but said "it was made perfectly clear by a few riders that they had no intention of changing how they rode their skis".
Gary Alford, chairman of Wessex Surf Club, said: "You cannot mix powered watercraft with surfers and swimmers. We're concerned if something isn't put in place there's a real risk of serious injury or death."
Personal watercraft rider Ian Dyke said: "The problem we've got is the majority can co-exist but a handful think it's OK to ride in amongst the surfers. With a ban - any rules put in place to stop us going near the shoreline - those type of people will ignore them.
"Free-ride jet skiers use the surf in the same way as surfers. We have to use the waves to train for our sport but there is plenty of surf along the Bournemouth shoreline."
Last month, surfer Tom Saunders filmed a powered watercraft passing within feet of fellow surfers near Bournemouth Pier.