Christchurch council approves referendum for merger plan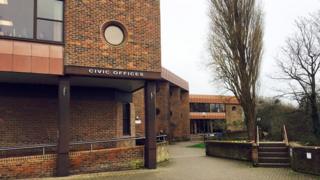 A referendum will be held over which councils offer services in part of Dorset.
Christchurch Borough Council approved plans for a vote to determine residents' views on the creation of two unitary authorities to replace the existing nine.
The council said the results would determine its approach to the merger.
The postal referendum, which will not be legally binding, is expected to cost about £60,000.
Six out of Dorset's nine councils have backed plans to create two unitary authorities and proposed the changes to the secretary of state for communities and local government, Sajid Javid.
The merger plan involves forming one unitary authority of Bournemouth, Christchurch and Poole, and another authority made up of East Dorset, North Dorset, Purbeck, West Dorset, Weymouth and Portland, in a bid to save about £108m over six years.
Represent residents
Christchurch, along with Purbeck and East Dorset, voted against the change in February despite an eight-week public consultation last year revealing Dorset residents "overwhelmingly" supported the plans.
At an extraordinary full council meeting councillors voted 13-9 in favour of conducting a referendum.
Acting council leader David Flagg said: "Although not legally binding, the result of the referendum could be incorporated within representation to the Secretary of State. If residents do not support local government reorganisation we will work on alternative options for the Secretary of State to consider.
"However, if the results show support for unitary councils in Dorset then members will have to look at our position to ensure we represent the views of our residents."
The referendum is expected to take place in May. If the merger is approved it would start from April 2019.