Bournemouth father guilty of 'thrown baby' murder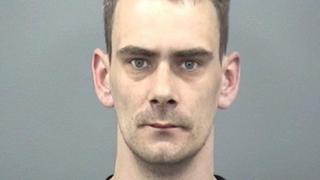 A father has been found guilty of murdering his three-month-old son who died after he was thrown "vigorously" against a hard surface.
Robert Hinz, 34, of Carysfort Road, Bournemouth, had said he tried to revive his son Julian, who suffered severe skull fractures last April.
Julian died in hospital the following day when doctors turned off his life support system.
Hinz will will be sentenced at a later date, Winchester Crown Court was told.
The court heard Julian collapsed in a bedroom at home on 8 April while his mother was out shopping.
'Fractured ribs'
Hinz, who had been made unemployed a month earlier, killed his son "in a few moments of anger and violence", the prosecution said.
The court was also told the child had previously suffered fractured ribs, inflicted by "squeezing" on occasions prior to the fatal injuries.
Hinz, who was also found guilty of causing grievous bodily harm, said he did not remember what happened in the bedroom but denied murdering his son.
He said he had tried to resuscitate the baby who was "floppy" and not breathing.
He denied he often lost his temper but admitted he had damaged his flat when the paramedics arrived.
Officers believed he had also been drinking that day.
'Heartbreaking'
Neighbours described hearing shouting, voices arguing and a loud thud around the time of the incident, Dorset Police said.
Speaking after the conviction, Det Insp Richard Dixey described the case as "heartbreaking".
"A baby - just months old - is particularly vulnerable and needs almost constant attention and nurturing from its parents, " he said.
"Robert Hinz did not provide this protection. Instead he subjected his own son to months of violent episodes culminating in Julian's murder."