Bournemouth council chief exec to receive £394k payout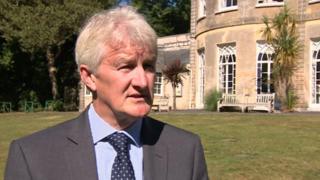 The chief executive for Bournemouth Borough Council it set to receive an "eye-wateringly high" pay-off of more than £390,000.
The authority will dispose of Tony Williams and agree to a severance package at a full council meeting.
Mr Williams has been on sick leave for four months and requested the redundancy a year ago.
The payment covers redundancy and pension rights, which the council say will save them £164,000 a year.
The size of the pay-off has been criticised by Conservative MP for Bournemouth West, Conor Burns, who said it was "eye wateringly high".
The Conservative MP for Christchurch, Chris Chope, called it "unconscionable" at a time when the government is cracking down on large payouts for chief executives across the public sector.
'Extraordinary high'
He said: "The government announced last autumn that it was putting a maximum cap on what it describes as exit payments of £95,000 and that would include all the elements in this package.
"So it's obviously more than three times, almost four times, the maximum. Why have we got this extraordinary high sum being offered to a retiring chief executive?"
A council spokesperson said initiating the redundancy now, before a possible merger with Poole and Christchurch councils in a local government reorganisation, will save money.
Mr Williams was appointed chief executive in 2011 with a basic salary of £125,373 a year.
According to the meeting agenda, the payout is broken down with a £63,000 statutory redundancy, contractual six months' notice pay of £85,000 and a statutory early release of pension at £246,000.
The agenda also states the council is not legally required to have a post of chief executive and the proposals are "compliant with the relevant local government legislation and employment law".