Isle of Wight dog walkers' near miss during cliff fall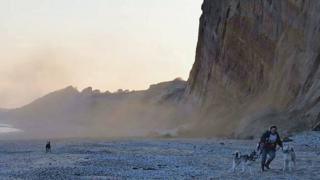 This is the moment a dog walker realised part of a cliff had come tumbling down on the spot where she been standing just minutes earlier.
Zoe Cox, who took the photograph of friend Amber Wilcox, said they heard a loud rumble before "a couple of tonnes of rubble" landed behind her.
They were walking on Yaverland Beach in Sandown, on the Isle of Wight.
Ms Cox said the pair would normally stay closer to the water, but had been clearing up after their dogs.
The coastguard has advised the public to stay away from the area.
Ms Cox said the collapse, at about 19:00 BST on Friday, had left her and the rest of her group "shocked.
"We suddenly heard a loud rumble and it landed just a couple of metres behind us," she said.
"We were picking up dog mess at the time which is why we were so close to the base of the cliff," Ms Cox said, adding: "We would normally be closer to the water."
She photographed her Ms Wilcox and dogs Bella, Miro and Barney as the landslip happened.
"We feel really lucky, we can't comprehend it really," she added.
However, she said it had not deterred them from visiting the beach.
Similar rock falls along Dorset's coast have prompted the coastguard to warn people to stay away from the base and top of cliffs.
In 2012, Charlotte Blackman, 22, of Derbyshire, was killed on Hive Beach when about 400 tonnes of rock fell from the cliff.