Rally over changes to Dorset's NHS services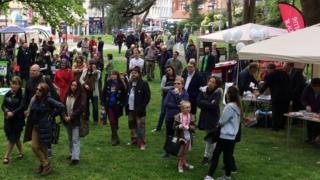 People concerned about planned changes to NHS services in Dorset have gathered in Bournemouth to voice their concerns.
Under the proposals the Royal Bournemouth Hospital would become Dorset's main A&E hospital.
NHS Dorset Clinical Commissioning Group (CCG) said changes were needed due to a funding gap of £158m a year by 2020.
Keep Our NHS Public Dorset, who organised the event on Horseshoe Common, said "the proposed cuts were unnecessary, damaging and reckless".
The reorganisation would see Poole Hospital specialise in planned operations, with 45,000 routine operations moving from Bournemouth to Poole annually.
The number of beds at Bournemouth would increase from 670 to 1,100, there would also be a new maternity and paediatrics department and 2,000 extra staff.
Dorset County Hospital in Dorchester, would retain round-the-clock A&E capacity and remain a district general hospital serving the west of the county.
NHS Dorset CCG said information gathered during a public consultation between December and February was being used to produce a report, expected shortly.
A business case will then be presented to the CCG's governing body in later this year.
If approved, the changes could be implemented within five years, it said.