Poole Miller & Carter fire: Emergency crews tackle restaurant blaze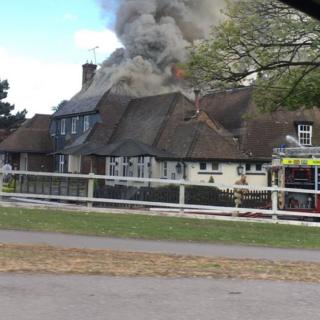 Customers at a restaurant in Poole had to be evacuated when a large fire took hold in the building.
Fourteen fire engines, a water carrier and an aerial ladder were used as flames spread at the Miller & Carter steakhouse on Wallisdown Road on Saturday at 14:49 BST.
The restaurant was open at the time, but no-one was injured.
The blaze was centred in the staff accommodation area on the second floor and had spread to the roof.
It was brought under control by 18:00 BST.
Thick plumes of smoke rose into the sky and crowds gathered as Dorset Fire and Rescue Service crews battled the flames.
The cause is not yet known.
Firefighters remained at the scene throughout the night inspecting the building.
A spokesman for Miller & Carter said: "Our first priority is always the safety of our customers and our staff, and we're glad to see that the team initiated the required procedures in the circumstances and that our restaurant in Poole was evacuated safely and quickly.
"We are working with the fire service to understand what has happened and have begun a structural investigation.
"Once we have assessed the scope of the damage, we will begin remedial building works promptly with a view to reopening this highly successful restaurant as soon as possible."