Royal visit for Kingcombe Meadows Nature Reserve near Bridport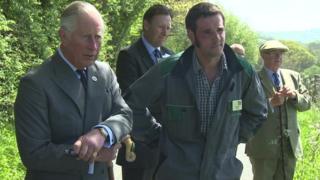 The Prince of Wales has visited a Dorset nature reserve to mark its 30th anniversary.
The prince toured Kingcombe Meadows Nature Reserve near Bridport, including the Lady's Mead wildflower meadow.
He met local schoolchildren in the reserve's education centre before seeing the work done to manage the site as a working organic farm.
Dorset Wildlife Trust (DWT) which runs the reserve said it had been a "great visit".
Lady's Mead was selected as one of the nation's Coronation Meadows to mark the 60th anniversary of the Queen's Coronation in 2013.
The project, led by the prince, has created a new meadow in every county in the UK in a bid to address the loss of the habitat.
Cuttings and seeds from the meadow are taken and used to start other meadows in Dorset.
The prince previously visited the site almost 30 years ago when the Duke of Cornwall's Benevolent Fund helped repair fencing and gates.
Simon Cripps, DWT's chief executive, said: "We were delighted to show the Prince of Wales the improvements and changes we've made since his last visit to the nature reserve, nearly 30 years ago.
"We are proud to run a traditional farm, grazed by cows and sheep, without the use of pesticides or artificial fertilisers to encourage good quality grassland, supporting a diverse abundance of wildflowers."