Brownsea Island's Edwardian engine restored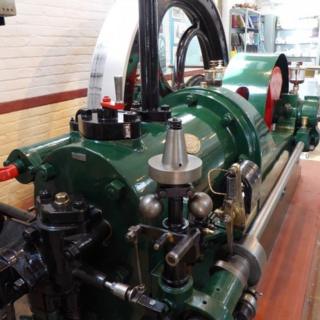 An Edwardian engine that once supplied electricity to a castle has been restored after being discovered in pieces at a Dorset beauty spot.
The single-cylinder Otto cycle engine is running again after being found on Brownsea Island.
It dates to about 1907 and was originally installed to supply electricity to the island's castle.
It is believed to be the only one of its kind to remain in its original location - a former engine house.
The engine was dismantled in the 1990s for a restoration project that never began.
During the transformation of the engine room into a shop, pieces of the engine were relocated across the island with some being left outdoors.
A team of volunteers worked with the National Trust, which manages the island in Poole Harbour, to carry out the restoration project which began in 2014.
"Some of these parts were badly corroded," said island ranger Phil Pickering.
"Some parts were also found scattered all over the island.
"One of the pieces - the piston - was found propping up a derelict trailer in the farmyard."
The National Trust hopes to run the engine at scheduled times this year for visitors to the island.
Brownsea Castle, previously known as Branksea Castle, was originally built between 1545-47 by Henry VIII as a coastal defence, but is now a private hotel.