Bournemouth runner completes 44 marathons in 44 days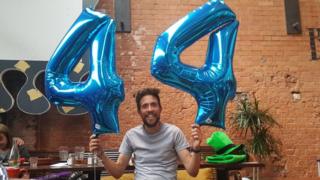 A charity fundraiser has achieved his goal of running 44 marathons on consecutive days - one in each of 44 countries.
Peter Thompson, from Bournemouth, began his challenge on 1 April in St Petersburg and finished in Dublin on Sunday.
The 32-year-old has raised almost £18,000 for mental health charities Livability Holton Lee and Mind.
He said travelling between countries had been a logistical nightmare.
Mr Thompson said he hoped his challenge would "encourage others to be open about mental health and, if comfortable, share their own stories".
"We all face our own issues but wouldn't it be great if everyone was able offer support instead of judgement, advice instead of avoidance, or simply a smile instead of a stare," he said.
Between each marathon he had to move from one country to the next, in "a mixture of trains, planes, buses, taxis, cars and ferries".
Along the way he said he suffered a leg injury and got fined after a bus driver refused to accept a 50 euro note.
He ate cake for breakfast some days and even found time to hand wash his running kit on occasions.
He said it had been the "best thing and the hardest thing" he had ever done.
Although he rarely had time to sit down to a proper meal he said he had consumed about 6,000 calories each day - eating mainly sandwiches and chocolate.
He praised family, friends and running clubs in various countries who had "gone out of their way" to help him, including running with him at points along the route.
The 44-marathon route:
St Petersburg, Russia
Helsinki, Finland
Tallinn, Estonia
Riga, Latvia
Vilnius, Lithuania
Minsk, Belarus
Kiev, Ukraine
Chisinau, Moldova
Bucharest, Romania
Sofia, Bulgaria
Nis, Serbia
Skopje, Macedonia
Shkoder, Albania
Podgorica, Montenegro
Sarajevo, Bosnia
Zagreb, Croatia
Ljubljana, Slovenia
Vienna, Austria
Bratislava, Slovakia
Brno, Czech Republic
Budapest, Hungary
Krakow, Poland
London, United Kingdom
Lisbon, Portugal
Barcelona, Spain
Andorra La Vella, Andorra
Mormoiron, France
Monaco, Monaco
City of San Marino, San Marino
Rimini, Italy
Vatican City
Luqa, Malta
Athens, Greece
Vaduz, Liechtenstein
Sargans, Switzerland
Luxembourg City, Luxembourg
Mons, Belgium
Amsterdam, Netherlands
Hamburg, Germany
Copenhagen, Denmark
Gothenburg, Sweden
Oslo, Norway
Reykjavik, Iceland
Dublin, Ireland