Swanage to Wareham rail line to reconnect to mainline after four decades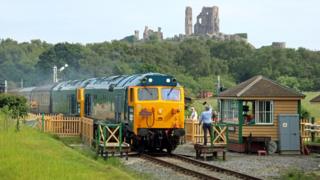 Regular passenger trains will reconnect a Dorset seaside resort with the mainline for the first time in four decades in June, a heritage railway has announced.
Timetabled trials between Swanage and Wareham were originally expected to begin in 2015 but faced delays.
Swanage Railway said it now plans to run its first diesel-hauled passenger train to Wareham on 13 June.
The original rail line was closed by British Rail and ripped up in 1972.
More on this and other stories from across the South of England
The special first train will mark the start of a two-year trial using diesel trains on 60 selected days this summer - with four trains a day in each direction between Wareham, Corfe Castle and Swanage.
The trial services will see diesel trains run by Swanage Railway connecting with South West Trains services at Wareham on the Weymouth to London Waterloo line.
Swanage Railway Company chairman Trevor Parsons said: "The trial public service will be historic because it has been Swanage Railway's ambition to return passenger trains to Wareham for more than 40 years - with several generations of volunteers working to achieve this."
A new £500,000 level crossing has been installed as part of the £5.5m investment by the railway's stakeholders - including Purbeck District Council, Dorset County Council, BP and £1.8m grant from the government's Coastal Communities Fund.
The work has also included the replacement of 1,200 wooden sleepers with concrete ones.
Issues including upgrade works on its diesel trains, ownership of the rail line and nearby hibernating animals led to delays in the work.
The original 10-mile (16km) line from Swanage to Wareham was ripped up in seven weeks.
Volunteers rebuilt a 5.5-mile (8.8km) stretch from Swanage to Norden over 30 years and have been running it as a tourist attraction since the 1990s.
They have since completed the remaining section of the track from Norden to Wareham to allow the line to reconnect to the mainline.
Swanage Railway history:
1885 - Ten-mile branch line from Wareham to Swanage opens
1972 - British Rail rips up the line
1976 - Volunteers start relaying track at Swanage Station
1979 - Swanage Railway runs its first diesel train over a few hundred yards of track
1980 - First Swanage Railway steam train runs
1995 - Passenger trains running between Swanage and Norden, via Corfe Castle
2002 - Swanage Railway's tracks met the national railway system at Motala
2014 - New signalling system between Swanage Railway and Network Rail commissioned
2016 - Norden Gates level crossing officially opens