Portland stone quarry industry moves underground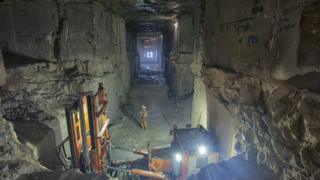 One of the last opencast Portland stone quarries is switching to mining, after more than a century of production.
Operator Portland Stone Firms said the move would prolong the life of Coombefield Quarry, which was "largely worked out".
It leaves just one quarry continuing opencast extraction, widely used on the island since the 17th Century.
Dorset County Council said it would encourage mining, to protect the landscape and local residents.
It has approved the firm's application to mine at Coombefield, subject to a section 106 agreement.
Portland stone has been used extensively in London landmarks including St Paul's Cathedral and the British Museum, as well as in the United Nations headquarters building in New York.
It is now used for the restoration of buildings and new projects, often in London.
Portland Stone Firms said opencast quarrying would eventually be phased out, although its last remaining quarry - Broadcroft - had an expected life of more than 20 years.
It said mining was needed to replace "dwindling reserves" on the surface.
'Landscape scars'
The firm said it was negotiating with the council to mine the Coastal Strip area, after settling a legal dispute over access in 2016.
Portland's other extraction firm, Albion Stone, said the days of surface quarries, now viewed as "scars on the landscape", were over.
Managing director Michael Poultney said the firm had switched entirely to mining after opening Portland's first trial mine at Bowers in 2002.
"We were a quarrying company running out of quarries, but now we have reserves for about 50 years," he said.
Mr Poultney said the company had had to invest more than £2m in developing mining technology.
Dorset County Council said mining was becoming more cost effective than quarrying while producing similar yields.
It said benefits also included reduced noise and dust and lower carbon emissions.