Sandbanks hotels £250m development plan 'devastating'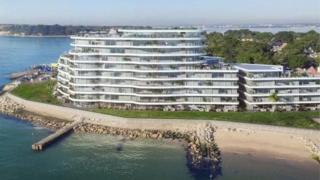 Campaigners have criticised a £250m project to redevelop three hotels on the exclusive Sandbanks peninsula.
Developers want to demolish buildings on three sites to make way for a new hotel, holiday apartments and flats.
The Protect Sandbanks Group said the flats, which would mark the entrance to Poole Harbour, would have a "devastating impact" on the area.
Operator FJB Hotels says the flats are needed to fund the cost of the Dorset hotels.
More on this and other stories from across the South of England
More than 900 objections have been lodged with Borough of Poole.
Protect Sandbanks Group, set up to oppose the plans, called the flats a "10-storey, faceless" development.
Chairman David Morley said: "I don't think this is the right place for towering blocks of flats.
"What's being proposed is to demolish the Haven Hotel and the owner's house next door to enlarge the footprint to put an even bigger block of flats on that site.
"This is not about a few rich residents, it's an issue for people all over the country and abroad who come and enjoy this location."
Under the plans, Haven Hotel - at the entrance to Poole Harbour in Dorset - will be replaced by 196 flats in four blocks and a restaurant.
Sandbanks Hotel, at the other end of the 1.5 mile-long peninsula, would be restyled as a 175-bedroom hotel.
Harbour Heights Hotel in Haven Road, at the start of the mainland, is earmarked for 40 hotel apartments.
FJB Hotels managing director John Butterworth said: "The Haven Hotel was rebuilt in 1927 with a steel frame. The engineers shocked us and told us the steel frame has totally corroded.
"We have a serious situation here and that building will have to be condemned.
"I spent my life developing this hotel and the last thing I want to see is them knocked down but you need to face reality in life."