Poole Hospital elderly care ward to close at end of month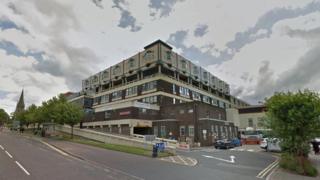 Poole Hospital is to close its elderly care ward despite claims that older people's services are "struggling to cope with demand".
The closure of the Lilliput Ward at the end of this month will reduce the total number of beds by seven.
Poole Hospital NHS Foundation Trust said the move reflected a reduction in the amount of time elderly patients were spending in hospital.
Healthwatch Dorset say there are not enough beds to meet demand.
The ward's 26 staff would be offered the same roles elsewhere in older people's services, the trust said, and 13 of the ward's 20 beds would be moved through "reconfiguring services".
Medical director Robert Talbot added: "Closing a ward is a difficult decision and I would like to thank the whole Lilliput team for their contribution to exceptional care.
"The decision reflects the successes of the services we provide in keeping patients in hospital for the shortest period needed."
'No sense'
Martyn Webster, Healthwatch Dorset manager, said Lilliput ward was given an award for "best performance", nominated by patients' families, in 2016.
"Local people tell us that older people's services - whether in hospital or in the community - are struggling to cope and that there aren't enough available beds to meet demand," he added.
"So to close an award-winning facility - caring for some of the most vulnerable in our society - and reduce the number of beds available at Poole Hospital seems to make no sense at all."